Senior Safety: Tripping Hazards In Your Senior's Home
Senior Safety: If you have an elderly mother or father living at home, you may already know that it's dangerous for seniors to fall.
Unlike young and middle-aged people, seniors often have porous bones, due to loss of bone density over the years. That means senior bones break more easily.
Broken hip bones, in particular, are a hazard for people over 60. According to some elder care experts, one out of three people, fifty and over, will die within a year after fracturing a hip.
This happens for a myriad of reasons. Broken hips lead to hospitalization which may lead to a hospital-acquired infection. And, when someone breaks a hip, staying in shape becomes virtually impossible. Loss of fitness at any age raises health risks, but more so for the elderly.
Senior Safety: What Causes Falls in the Elderly?
Loss of cognitive function is the main cause of fatal falls in people over 65. This means that if your mother or father has dementia or other loss of mental acuity, his or her risk of falling increases. Older individuals may also have difficulty getting around and balance disorders. These, too, contribute to fall risks.
One line of defense against falls is to help your senior improve his mobility, especially his balance. An elder care aide can help your senior do low-impact exercises that improve flexibility and stamina. Walking is a great, safe way to improve balance. Ask your elder care aide to schedule a ten to twenty-minute walk with your senior at least three times a week, if not every day.
Senior Safety: Remove Trip Hazards From Your Senior's Home
When you are examining your senior's home for tripping and falling hazards, take a hard look at the kitchen. Is your mother or father still using a step stool to reach the upper shelves of cabinets? If so, move all frequently used pots and pans to within easy reach. This might be a simple matter of putting up some shelves that are at about the level of your parent's head.
-Look at hallways, especially any pathways that a parent might use to go from bedroom to bathroom at night. Make sure these hallways are well-lighted. You may want to install some small LED wall lamps and/or night lights that stay on all the time.
-Remove throw rugs, and make sure that there are no knick-knacks, boxes, toys, or other loose items on the floor that will invite a fall. Consider bolting big pieces of furniture, like bookshelves, to the wall.
-In the bedroom, remove the bed-skirt, as that is a tripping hazard. Also, remove any chairs with wheels and replace them with safer, more stationary chairs. Electric recliners are great for elderly individuals with mobility challenges. These recliners can be tilted forward to make exiting from the chair safer.
-Make sure that your parent has plenty of non-skid socks on hand at all times. These socks have rubber dots on the bottom which reduce the chances of slipping on a smooth floor. See if your parent will agree to throw out the flip-flops. They become something of a hazard past the age of 65.
Senior Safety: In Conclusion
Tripping and falling are among the greatest dangers your elderly parent faces. Use the above guidelines to make your mother or father's home more age-friendly. You will be able to rest more easily, knowing you've taken reasonable precautions to keep your parent safe.
If you or an aging loved-one are considering hiring

Homecare in Burlingame, CA

, call the caring staff at Aviva In-Home Care.
Call today: (415) 795-2203
Sources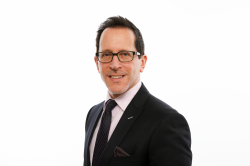 Latest posts by Evan Loevner, CEO
(see all)