Senior Fall Risk Management
Aviva In-Home Care uses a Family-Centered Model of Care approach to home care services. Family-Centered care is made up of a set of values, attitudes, and approaches to services for clients with special needs and their families. Family-Centered care recognizes that each family is unique; that the family is the constant in our client's life; and that they are the experts on the client's abilities and needs.
Aviva works closely with the family to make informed decisions about the services and support the client and family receive. With Family-Centered care, the strengths and needs of all involved family members are considered. Studies have shown that health outcomes and levels of satisfaction are improved with this model of care. This is why this model is widely used at major health facilities across the U.S.
What is Fall Prevention in the Home?
Fall prevention in the home refers to measures taken to reduce the risk of falls among seniors and other individuals with limited mobility. These measures can include things performing a safety inspection to highlight any trip hazards in the home or dangers to safe ambulation, to making recommendations on improving lighting throughout the living space, to considering better ways to organize household goods and furniture to ensure safe passage.  Additionally, we can help to implement an exercise routine to improve a client's balance and strength.  Lastly, we can provide active assistance in the more dangerous areas of the home, like the bathroom, where the majority of injuries from falls occur.
What is the first step in preventing falls for a senior?
The first step in preventing falls in a patient is to assess their risk factors for falling. This can include factors such as their age, medical conditions, and medications they are taking. It's also important to assess the home environment to identify any potential hazards that could increase their risk of falling, such as poor lighting or trip hazards like loosely secured carpets, or steep, narrow stairwells. Based on this assessment, along with the client, we can develop a plan to reduce their risk of falling. This may include recommendations for exercises to improve balance and strength, changes to their home environment, and the use of assistive devices.
Aviva works closely with your family, throughout the care process, to make informed decisions about the services and support the client and family receive.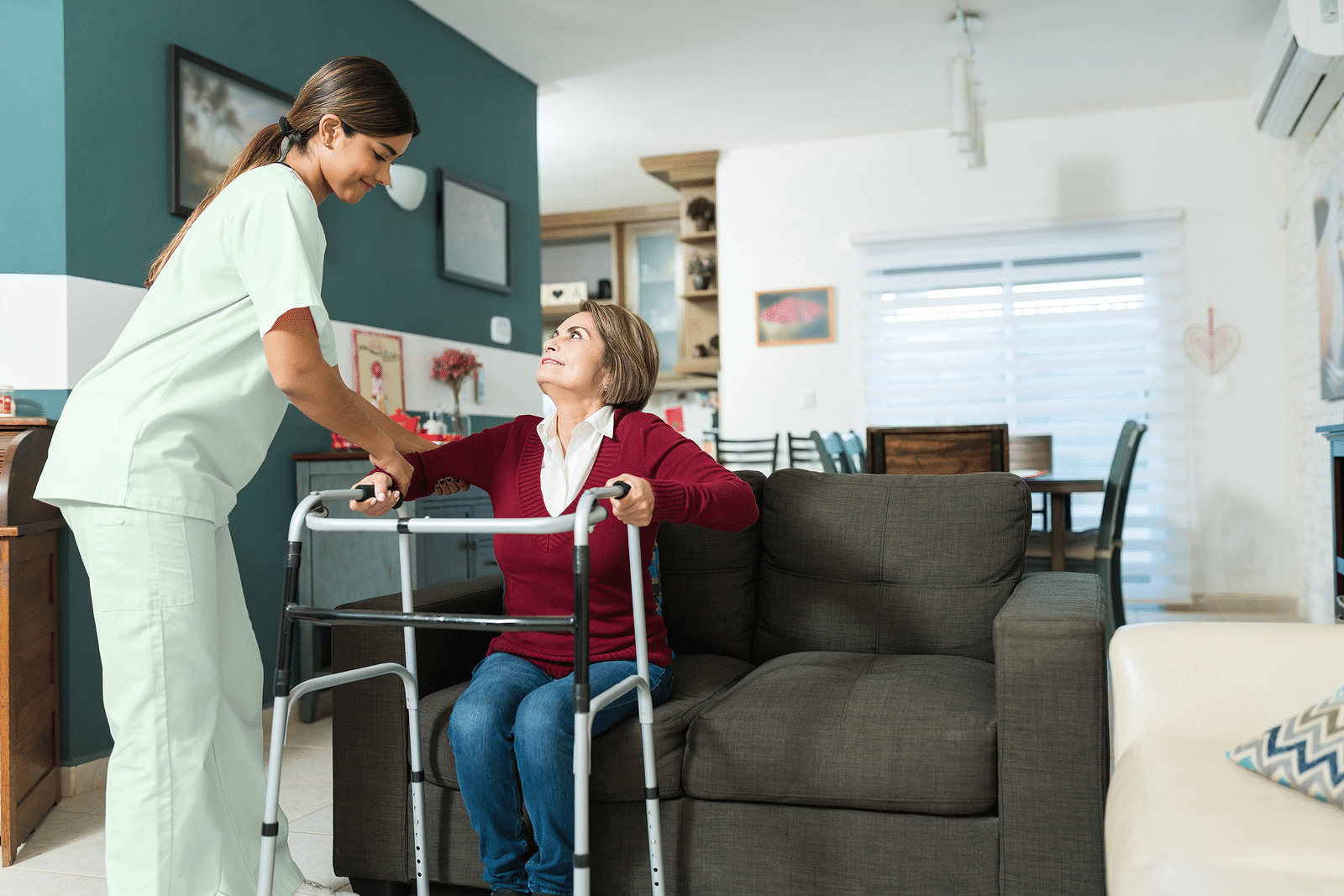 At Aviva, we have an expert management team that understands healthcare delivery, care professionals with multiple years of experience, and an organization focused on continual staff training & education.
What are the most commonly used methods to prevent falls?
There are several methods that can be used to prevent falls in the elderly. These include:
Exercising regularly to improve balance and strength.
Making the home safer by removing trip hazards and improving lighting.
Using assistive devices, such as canes or walkers, to help with mobility.
Using medications carefully and as directed to avoid side effects that can cause dizziness or drowsiness.
Having regular vision and hearing checkups to ensure that any impairments are identified and addressed.
Additionally, it's important for elderly individuals to wear sensible, non-slip shoes and to be aware of their surroundings to avoid falling. If a fall does occur, it's important to seek medical attention as soon as possible.
Which is the best example of a fall prevention system?
There are many different fall prevention systems available, and the best one for a particular individual will depend on their specific needs and circumstances. Some examples of fall prevention systems include:
Fall detection alarms: These are devices that are worn by the individual and are triggered if they fall. The alarm will alert care professionals or emergency services so that they can respond quickly.

Bed and chair sensors: These sensors are placed on the individual's bed or chair and will alert care professionals if they get up without assistance.
Home safety assessments: This involves a trained professional coming to the individual's home to identify potential hazards and make recommendations for how to reduce the risk of falls.

Physical therapy: A physical therapist can develop a personalized exercise program to improve the individual's balance and strength.  Care professionals work with the client to encourage and reinforce exercise compliance.
What are the best exercises to prevent falls?
There are several exercises that can help prevent falls in the elderly. These include:
Single-leg stands: This involves standing on one leg and holding the position for as long as possible. It helps improve balance and leg strength.
Leg raises: This involves standing and raising one leg in front of you, keeping it straight. It helps improve leg strength and balance.
Toe taps: This involves standing and tapping your toes on the ground in front of you, alternating feet. It helps improve balance and coordination.
Seated Side Bends.

 

This involves putting one arm behind the head with the palm facing forward, and bending the opposite side with the opposite arm stretched towards the flow.

 

This improves core strength.
Many others that our care team can recommend!


It's important to consult with a healthcare provider before starting any new exercise program, particularly if you have any existing medical conditions.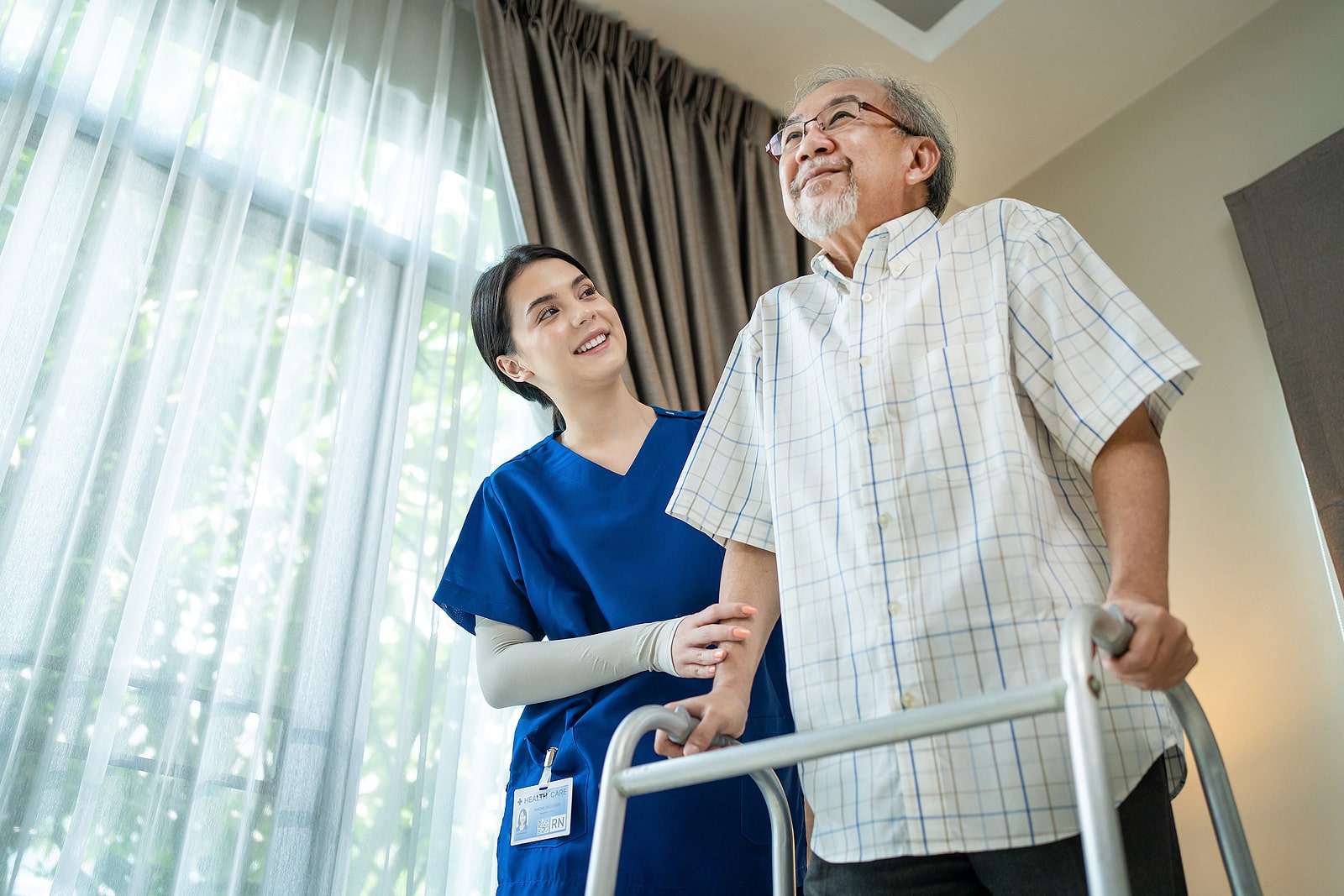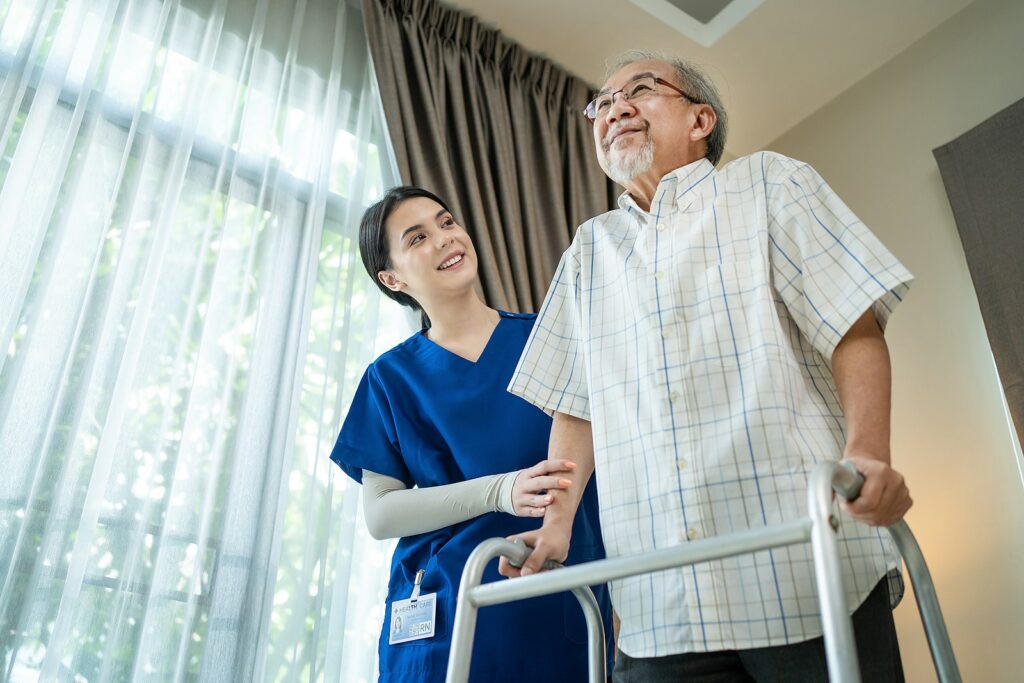 We understand that choosing a home care provider for yourself or a family member can be a difficult decision, and we believe that hearing from those who have already gone through the process can help ease any concerns you may have.
Understanding Senior Fall Risk and Prevention
Falls are a significant health concern for older adults: According to the U.S. Centers for Disease Control and Prevention (CDC), falls are the leading cause of injury-related deaths, non-fatal injuries, and hospital admissions for trauma among older adults (65 years and older).
Prevalence: About one in four older adults falls each year, but less than half report it to their healthcare providers.
Fatal falls: Falls among adults 65 and older caused over 36,000 deaths in 2020, making it the leading cause of injury death for that group.
Non-fatal falls: In 2020, nearly 3 million older adults were treated in emergency departments for non-fatal fall injuries, and approximately 950,000 were hospitalized.
California Statistics: In California in 2020, 1.4 million seniors reported a fall. That's 27% of seniors age 65 and older in our state.
Risk factors: Age, a history of falls, chronic conditions, medication side effects, environmental hazards, and muscle weakness are some of the risk factors that contribute to falls among seniors.
Fall prevention: Implementing evidence-based fall prevention programs, like strength and balance exercises, medication management, vision checks, and home safety modifications, can significantly reduce the risk of falls among older adults.
Why Choose Aviva In-Home Care for Senior Fall Prevention Services?
Providing Senior Fall Risk Management in San Francisco, Burlingame, San Mateo, Hillsborough, Atherton, Menlo Park, Palo Alto, Berkeley, Lafayette, Orinda, San Bruno, Millbrae, San Carlos, Belmont, Redwood City, Mountain View, Sunnyvale, Los Altos, San Jose, Santa Clara, Albany, Montclair, Emeryville, Foster City, Oakland Hills, Berkeley Hills, San Leandro, Hayward, Richmond, Cupertino, Campbell, Los Gatos, Saratoga, Moraga, Claremont, Palo Alto Hills, & Los Altos Hills.
With Family-Centered Care, the strengths and needs of all involved family members are considered.