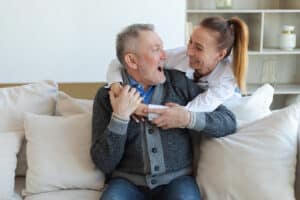 July 30 is Share a Hug Day so what better day could there be to hug your loved one? Whether it's a virtual hug or a good old bear hug given in person, hugs (especially physical ones) can have a wonderful healthful impact on the life of your aging senior. So, even if your loved one is grumpy and claims he doesn't like hugs, give him a hug on July 30 for the sake of the holiday and then help him incorporate hugging into his everyday life.
Hugs Come in Several Forms
From the virtual hug that your loved one gets when he talks to his grandkids on the other side of the world, to the side hug from his home care provider, to a big squeeze from those he's especially connected with, they can all improve his health.
Here are six ways hugging does a body good.
Hugs Calm Agitation
Many seniors feel like they're just not heard or seen anymore. They may feel like they complain but no one listens. A simple light hug or even a hand on the arm, as they vent about the day's problems, can help reduce agitation and the negative body effects of being agitated. This technique helps your loved one feel seen and heard.
Hugs Improve Sleep
Regular hugs from home care providers, family members, and friends can help your loved one sleep better at night.
Hugs Reduce Chronic Pain Symptoms
Because hugs can release endorphins into the body, depression is often reduced along with the chronic pain that may cause the depression and create that cycle. A good hug helps your loved one relax tensed-up muscles and reduces the pain that comes with that constant tension.
Hugs Reduce the Risk of Infection
A body that feels cared for and loved through hugs has a stronger immune system that can fight off viruses that it may come in contact with when in public places.
Hugs slow down anxious thoughts. A good, long hug can help a person who is feeling anxious to slow down their racing thoughts and breathing so that the heart and blood pressure levels slow. An anxious person should be asked if he wants to be hugged while feeling anxious. It could just make him more anxious if his home care provider just suddenly starts hugging him, so always ask for permission.
Hugs Increase Awareness of the Surroundings
A hug can ground a person back into reality, helping your loved one become more present in the here and now rather than distracted by the past or an unseen trigger.
Many seniors have lost the opportunity to receive a lot of hugs in their daily life because of isolation or the loss of those they care about. Helping your loved one reestablish a regular hugging routine can be a great way to add those benefits of human touch back into his life.
If you or an aging loved one are considering Home Care in Menlo Park, CA please contact the caring staff at Aviva In-Home Care Today! (415) 463-1400
Aviva In-Home Care provides exceptional senior home care in the Bay Area, including San Francisco, Burlingame, San Mateo, Hillsborough, Atherton, Menlo Park, Palo Alto, Berkeley, Lafayette, Orinda, and surrounding areas.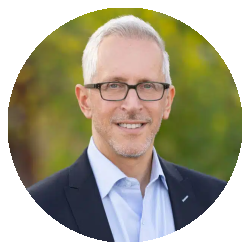 Latest posts by Evan Loevner
(see all)