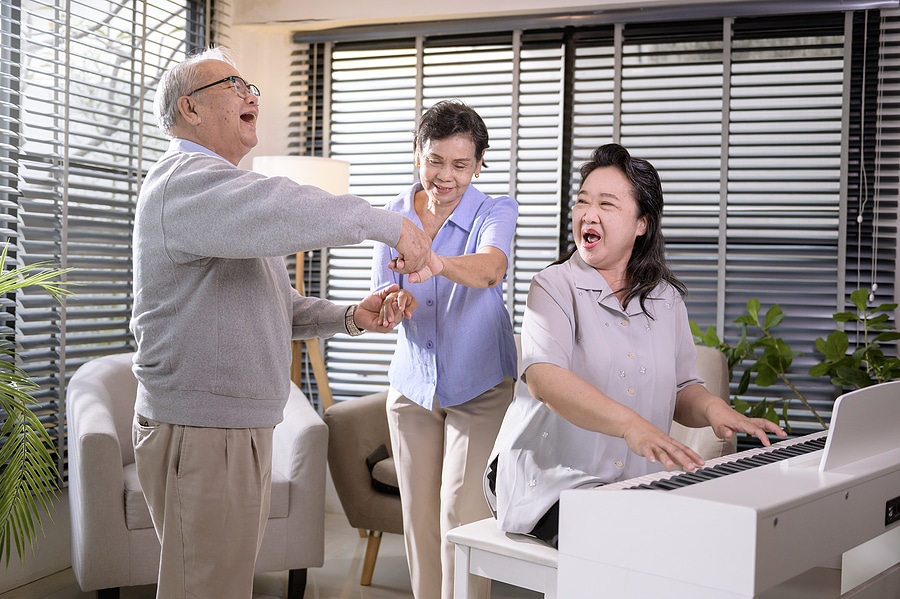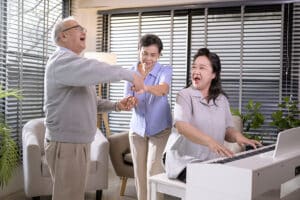 Music therapy has become a strong and effective form of therapy for seniors. It helps their physical, social, and mental health in many ways. It is a unique way for seniors to heal and feel better, especially if they have trouble with their health, cognitive functioning, or loneliness. Loved ones and in-home care aides can support seniors by learning more about this innovative therapy.
Cognitive Improvement
Listening to music can excite different parts of the brain, bringing back memories and improving how the brain works. Seniors can remember things from their past by listening to or playing familiar songs or melodies, which can bring back memories connected with those songs or melodies. This stimulation can be especially helpful for people with Alzheimer's disease or other forms of dementia, as it may help them interact better, calm them down, and make them more interested in their surroundings as a whole.
Emotional Health
Music therapy has a big effect on the emotional health of older people. Music can make them feel a wide range of emotions and can be a powerful way to get those feelings out. Seniors who take part in music therapy often feel better about themselves, have less worry, and feel less depressed. The rhythm and melody of music can help them relax and feel less stressed by giving them a feeling of calm and comfort.
Physical Therapy
Music treatment can also be important to seniors' physical rehabilitation. Seniors healing from strokes, injuries, or surgery can use rhythmic patterns and melodies to help them move and coordinate their bodies. Drumming, dancing, or playing simple percussion instruments are all things that seniors can do to improve their motor skills, balance, and rhythm.
By adding music to physical rehabilitation programs, seniors can get both physical exercise and mental activity at the same time. In-home care professionals can continue this work at home by encouraging seniors to practice their physical therapy routine with approval from the therapist.
Improved Social Interaction and Connection
One of the best things about music therapy for seniors is that it allows them to connect with and talk to others. Group music therapy classes give people a place to share their love of music and make music together in a safe, supportive setting. Participating in activities linked to music helps seniors meet new people, reduces feelings of loneliness and isolation, and helps them make new friends. Making music together gives people a sense of community and friendship, which is good for their general health.
Improved Self Esteem
Seniors can have a better quality of life by using music therapy in their daily lives. Music helps people find joy, happiness, and a sense of purpose through music. It gives them a way to pass the time that is important and fun, and it fills their days with good and enriching things to do. Music therapy gives seniors a sense of control and allows them to express themselves. This helps them feel like themselves, even if their bodies or minds are struggling.
Music therapy has a lot of benefits for adults and can improve their health in a variety of ways. As a valuable and easy-to-use form of therapy, music can bring happiness, comfort, and a renewed feeling of vitality to the lives of seniors. Loved ones and in-home care providers can support music in the home by encouraging seniors to listen to it and by asking them about their memories associated with music.
If you or an aging loved one are considering In-Home Care in Atherton, CA please contact the caring staff at Aviva In-Home Care Today! (415) 463-1400
Aviva In-Home Care provides exceptional senior home care in the Bay Area, including San Francisco, Burlingame, San Mateo, Hillsborough, Atherton, Menlo Park, Palo Alto, Berkeley, Lafayette, Orinda, and surrounding areas.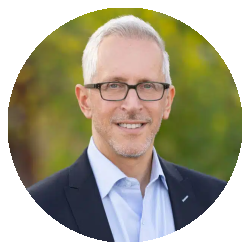 Latest posts by Evan Loevner
(see all)