The Senior Care Industry Netcast with Evan Loevner, Aviva In-Home Care
Posted with Permission from The Senior Care Industry Netcast. Thank you, Evan, you were a GREAT guest!!
Exciting Netcast News
Episode 34 of the Senior Care Industry Netcast!
We were fortunate enough to have Evan Loevner, https://avivainhomecare.com/ on our show and he offered some great insight and #advice for other #seniorcare and #healthcare providers.
Full Transcript:
Valerie VanBooven RN BSN:
This is Valerie VanBooven with the Senior Care Industry NetCast, where leaders with three or more years of experience in the senior care industry share their advice. It's six questions in nine minutes, so let's get to it.
In a few sentences, tell us who you are and what you do.
Evan Loevner:
Hi, everyone. My name is Evan Loevner. I'm an ex-hospital administrator, and I started Aviva In-Home Care in San Francisco in 2014. We provide private duty, in-home, not medical care services to seniors looking either to post-hospitalization support, or for those seniors looking to get an alternative to going into a residential care facility. So, sometimes we're working with our clients on a 24/7 basis.
Evan Loevner:
We're really about preventing injury within and around the home. We provide support for the ADLs, or Activities of Daily Living, so that can be everything from companion care-related activity, errands, light housekeeping, meal preparation, all the way up to personal care, bathing, dressing, grooming support, eating support, and so on. We are really a white glove, high touch agency, Valerie. We're all about bending over backwards for our clients and doing whatever we can to keep them safe and happy.
Valerie VanBooven RN BSN:
That's what people are looking for, absolutely. Families are so relieved when they have that excellent level of support for their aging loved one, at home or wherever they call home. Absolutely.
What is the best thing about serving aging adults?
Evan Loevner:
For me, I would say it's knowing that we're improving the wellbeing of those seniors challenged with physical and mental hurdles. At the end of the day, we're about fulfilling their wish. We know from, as you know well, surveys that over 80% of seniors want to remain in place if they can, and age that way, age in place. I always encourage perspective clients to think about what we do more as an enablement to keep them independent, when often it's seen as, "Gosh, this is a big change to my lifestyle, and I'm having strangers in the home," and I'm relinquishing my independence.
Evan Loevner:
When in fact, it's exactly the opposite. We're keeping them able to do the things that they want to do. At the end of the day, the most gratifying thing for me is when I get thanks from the families for the impact that I'm having to the quality of life for their loved ones.
Valerie VanBooven RN BSN:
I would totally agree with you. Again, that sigh of relief and that thankfulness, and the happiness that you see on an adult child's face, and hear in the voice, there's just no replacement for that.
Evan Loevner:
Yeah, and just to add on to my comments earlier, that's what I was missing from the hospital environment, because I didn't have as many touchpoints to the families as I do now. It's great to be able to see them through the whole care delivery cycle, and make sure that they're getting what they want effectively, and that I'm the biggest enabler of that.
Valerie VanBooven RN BSN:
Absolutely, yeah. It's such a rewarding position to be in, it really is. To have that positive effect on so many lives is a great thing for your heart. So, all right I'm going to switch gears just a little bit and talk about online marketing. I know from other senior service providers that online marketing can be challenging, it's overwhelming, it's definitely ever-changing.
What have been your experience and thoughts on the online environment for home care?
Evan Loevner:
I agree, it can be challenging, and I'm a career marketer. I've been doing it for close to probably 25 years now, but I am by no means a social media marketing expert. I think we've all had to pivot in these challenging times as business owners, the ones who are thinking about it correctly anyway, and make sure that we have a very robust consistent online presence. I think it's vital to if you can't do it yourself like, "I don't feel I'm able to do it 100% effectively myself," but it's critical to have a partner who can help you do that.
Evan Loevner:
I would encourage anyone thinking about, "What do I do in terms of online marketing to really take at least baby steps," and the cornerstones of those baby steps if you will, I think, are A, having a good website that's informative, well designed. I think in terms of your social media presence, whatever sites you're on: LinkedIn, Facebook, what have you, it's having a consistent and relevant presence in front of your clients and your referral sources, whether that's through drip media campaigns, or other vehicles.
Evan Loevner:
Also, to perhaps most importantly, have a blog that allows you to establish yourself as a thought leader, and again, presents relevant information to your families and to anyone that you're working with.
Valerie VanBooven RN BSN:
I would agree. Thank you for that. I think that if somebody is considering choosing a home care agency, or assisted living facility, or anything senior care-related, it's such a difficult emotional decision, and it's an overwhelming place to be in at first, or maybe always.
People are going to look around online and see what you have to offer, and when was the last time you blog posted, or when was the last time you posted on your Facebook page. If it was 2016 since you last put something out there, they might wonder, "Where you been for four years," or whatever. We see that a lot.
Valerie VanBooven RN BSN:
I think having an up-to-date, whether you're doing it yourself or you hire somebody, just having everything up-to-date at least once a month if nothing else, and making sure that when somebody looks at it, they don't wonder why you disappeared in 2018, or whatever. I would agree with you. Baby steps is great, and learning just a little bit at a time about it is okay too.
Evan Loevner:
Mm-hmm (affirmative).
Valerie VanBooven RN BSN:
Who Are Some People or Organizations that Have Meant a Lot to You?
But up-to-date is perfect. So, what other successful leaders in the senior care industry, like yourself, maybe have been a mentor or an inspiration, whether it's personally or professionally, what organizations or people out there have meant a lot to you?
Evan Loevner:
Yeah, I would say we work all very often with two vital functions, if you will, within the longterm care spectrum. Those are conservators and geriatric care managers. Starting off with the later, the geriatric care managers, as you know Valerie, are often the quarterbacks of the care situation. I think they're probably not used as much as they should be used within this spectrum.
Evan Loevner:
You very frequently encourage my clients to take advantage of them, if their situation gets unwieldy or they feel like they need someone to advocate on their behalf, or get involved in financial planning, or make decisions between hospice, home care and home health that are often very difficult to make for families on their own, because we all know we have difficulty finding a source of information of people who can fight for us in an efficient manner for our [inaudible 00:08:16] and for our wishes.
Evan Loevner:
The few that I work within the Bay area were really phenomenal: Elle Katechen in the Peninsula, and then up towards the city Mary Hueln as well as Cathy Fianze. Those are three individuals who I would point to. The other vital function or type of individual who we work with among others in our space are conservators. Of course, advocating and managing the estates for those, or interests for those who are incapacitated or not able to do so any longer.
Evan Loevner:
We work with a couple of phenomenal conservators in this area: Laura Brockwell, David Keeler, Barbara Simon, and Anne Lusan to name a few. Those folks are great community partners, really help us take the best care of our families that we can, and vice versa. So, we're cross-referring and really working hand in hand as the years go by with our clients.
Valerie VanBooven RN BSN:
It's great that you've had some longterm partners like that, that you can market with, and refer to and trust. That's really important in this business, is having those people you can trust, that you know are going to do a great job for your clients. Thank you for shouting out to those people, because I know that… You have to share this with them now so that they know you talked about them, because it's always great to know.
You're in the San Francisco area, and it's so great to know who it is that we can go to for all these different things. When you have someone who's been doing this longterm like you have, and you have some longterm trusted partners, that helps families a lot.
Evan Loevner:
Mm-hmm (affirmative).
Valerie VanBooven RN BSN:
So, thank you.
What piece of advice would you give other senior service providers?
Evan Loevner:
My advice is I think even more generalized than that, because we're in tricky times. We're all trying to navigate the challenges presented by COVID. I think every business is impacted by that. Of course, we are because we're essential frontline workers. I would say you have to really stay connected and in front of your clients right now, that's very, very important, through the social media activities we talked about before, but also by looking for additional ways that you can establish value with your clients. Maybe coming up with new service lines.
Evan Loevner:
The sort of general business advice that I would give to people in this time is do some planning maybe when the demand is a bit slower now, try to stimulate some of those projects that may have been on the back burner for some period of time. Maybe get those off the ground. Again, it could be a new service line. It could be going after a couple of new relationships that you thought might prove valuable. Or again, even just redeveloping a business plan to understand where I need to be in six months, or one year.
Evan Loevner:
As you know Valerie, we're often trying to get out of the trees and above everything to strategize and plan, and now is the perfect time to do that.
Valerie VanBooven RN BSN:
You're right. You're right. A lot of people are taking this time to re-evaluate what they're doing, and how they're doing it, and what their delivery methods are. I think we see a lot of people adding service lines that didn't exist before, being innovative, thinking differently than they had had to think before for their caregivers who are those brave souls heading out there every day, and also for their business to thrive.
Valerie VanBooven RN BSN:
I think there's lots of opportunity for that in most business sectors, you just have to be able to adapt. You're right, this is a great time, it has been for the last few months, to re-evaluate lots of things, or just get that business plan back up to date. It always needs to be looked at every couple of years I think.
Evan Loevner:
Yes.
Valerie VanBooven RN BSN:
And see where we are and what we're really doing. All right,
When you have a win in life from business, how do you like to celebrate?
Evan Loevner:
Well, we can't do hugs anymore, right? What we're traditionally doing and we're trying to do it very often as a business, is showing appreciation for who are the really key, key parts of our business, so our frontline workers. They are the heroes, the care professionals who we employ.
We've always had a lot of potluck dinners, a lot of group celebrations whenever we have a really good quarter, or even if we don't because we're all about family and showing that we're connected and truly vested in not only the professional lives of our employees, but also getting to know them on a personal level as well.
Evan Loevner:
I do sometimes innovative things like for my direct staff, I give them a bonus of professional massages. They can go out and get them, and stay relaxed and de-stress. And then the occasionally paid day off for some mental health benefits and things like that.
I wouldn't say it's necessarily doing something when we win, but just showing them a level of appreciation on an ongoing basis because again, I feel that we're only as good as we are if we operate in one capacity, as one family. That means knowing everybody that's on the staff, what their interests are, what their strengths are, and what motivates them.
Evan Loevner:
It's important to recognize people on multiple, multiple levels.
Valerie VanBooven RN BSN:
Yeah. I think that's perfect. One of the best ways to celebrate is to appreciate the goodness that you have right in front you, with your staff. You can't replace some of your staff that are just amazing people. So, making sure they're happy is always a great way to celebrate.
Evan Loevner:
Yeah, we've had some of our people upwards of six or seven years, Valerie, since our inception in 2014. So, we've been blessed that way.
Valerie VanBooven RN BSN:
Yeah, and that speaks a lot to your commitment to them, because it's hard to keep a good staff… In this healthcare environment, it really is a lot of turnover as you know, so when you do keep people for a long time that speaks to from the top down, the values and the considerations that you have for your staff.
Valerie VanBooven RN BSN:
Thank you for sharing that with us, and thanks for being on the show. You did a great job, and we appreciate your wisdom because-
Evan Loevner:
[crosstalk 00:15:11]
Valerie VanBooven RN BSN:
That's what this is all about, sharing good news and good wisdom, and getting word about how all kinds of different healthcare professionals are navigating this environment, but also just business in general. Thank you.
Evan Loevner:
Thank you, I appreciated it, Valerie. Thank you very much.
If you or an aging loved-one are considering hiring Home Care in Hillsborough, CA, call the caring staff at Aviva In-Home Care.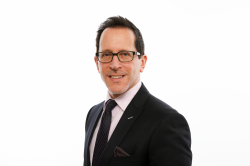 Latest posts by Evan Loevner, CEO
(see all)