Home Care Tips for Handling Caregiver Stress at Anytime
Home Care Tips: As a family caregiver, there are many things that may cause you stress.
Your elderly loved one may need more help than you originally anticipated. They may have new health issues that you aren't prepared to manage. These are common issues that many family caregivers struggle with. However, there are some home care tips for handling caregiver stress at any time. If you use the tips mentioned here, you can reduce your stress and prevent future stress, too.

Understanding Stress
Caregiver stress can describe physical, mental, and emotional strain on your body. You may be experiencing any of the following:
Guilt
Frustration
Loneliness
Stomachaches
Headaches
Increased risk of serious health issues
Depression
Anxiety
Concentration and focus issues
There are so many things that can be caused by caregiver stress. If you are already experiencing some of these issues, you shouldn't feel bad. It can be difficult taking care of someone who is dependent on you, especially when you have other responsibilities. One idea would be to hire home care providers. The elderly care providers can help take over some responsibilities with your loved one. That way, you can step back a bit and take care of yourself.
Recognizing Your Own Stress
You just read about some of the most common symptoms of caregiver stress. Now that you know about those, you can look out for them. If you start experiencing those symptoms, it is good idea to start asking others for help to care for your elderly loved one. You might want to get help from home care providers, neighbors, and other family members.
It is also important to note that you shouldn't keep waiting it out if you are experiencing these issues. The longer you wait, the worse your stress might get.
Other Strategies to Lower Your Stress
Family caregivers often feel guilty about not providing all the care for their elderly loved one. If this is how you are feeling, try not to be too hard on yourself.  It can be tough taking care of an elderly person. Maybe, you might consider getting some help from senior care providers but still helping out with certain tasks. It might be a good idea for you to help your elderly loved one throughout the year, but to get extra help when the holidays come around. These are just some strategies that might work for you and your elderly loved one.
Home Care Tips: Conclusion
Taking care of an elderly loved one can be difficult. However, there are some home care tips for handling caregiver stress that you may want to take into consideration. Hopefully, these tips work for you and your elderly loved one.
If you or an aging loved-one are considering hiring Home Care in Foster City, CA, call the caring staff at Aviva In-Home Care.
Call today: (415) 795-2203
Sources
https://health.gov/myhealthfinder/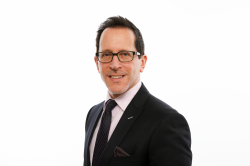 Latest posts by Evan Loevner, CEO
(see all)